Digitization changes business models
Digital transformation is a continuous process by which companies react to changes or drive them forward themselves. Digitization, the innovation driver of the 21st century, encompasses a wide variety of developments with a single goal:
The electronic transformation of business relationships.
Typologie der digitalen Transformation in Deutschland

Are you "digital ready?" Companies have the most diverse possibilities to implement digital transformation and the associated competitive advantages.
The effectiveness at each individual workplace is increased, many manual work steps are eliminated and employees can concentrate on their core business. Information and data are available independent of location and in real-time.
Digital transformation has an impact on the improvement of internal efficiency and company performance as well as the development of new business models, products and services based on digital technologies and skills. Digital and physical business and customer relationships are seamlessly combined.
"By using modern technologies, data management serves as the foundation for digital transformation. The Sta*Ware BusinessNavigator, as an innovative tool for easy and fast implementation of e.g. the incoming invoice workflow, offers uniform structures and order of workflows and data including mobile solutions" says Christian Paucksch, Managing Director of Sta*Ware.
Example view: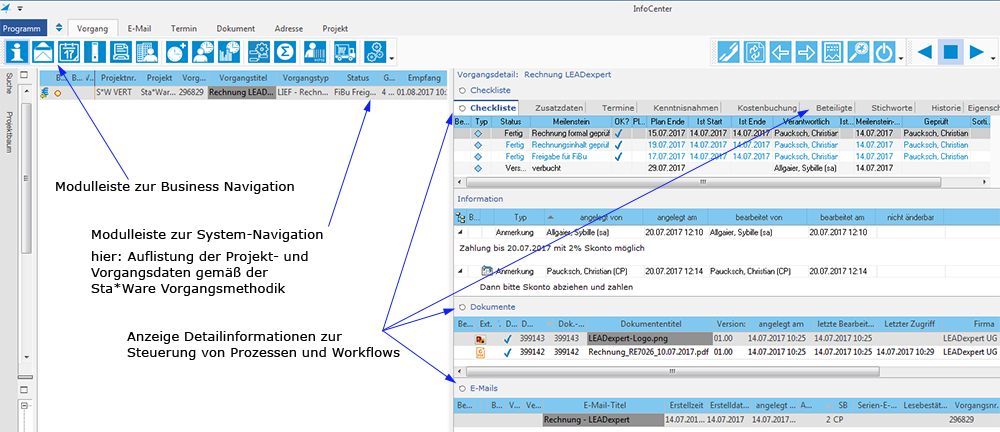 One of the advantages of increasing digitization is omnipresent: companies gain more transparency for relevant insights and future strategies through the newly acquired data.
The Sta*Ware BusinessNavigator is a mature software package offering standard solutions such as CRM, ERP, DMS, PMS and industry solutions to electronically control all business processes. Individual customer solutions based on the special Sta*Ware process methodology are also possible.
Conclusion: Business processes are sustainably supported by digitalization. Existing as well as new data is collected, analyzed and optimized in order to increase efficiency in the long run.